MikroTik CRS328-4C-20S-4S RM Smart Switch
The CRS328-4C-20S-4S+RM is a 28 independent port switch with a combo group. This device has twenty SFP ports, four SFP+ ports for 10G modules and four combo ports, where you can choose to use SFP or RJ45 ports from the combo group. These ports can also be software selected, so if you have plugged in all eight cables, you can use scripting, to decide which four combo ports will be active.
The device comes in a 1U rackmount case with two 100-240 V power supplies with failover functionality. A RJ45 console port is available for management and debugging, and a mode button can be customised to execute any RouterOS commands.
The device has a "Dual boot" feature that allows you to choose between two operating systems – RouterOS or SwOS.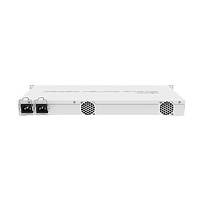 Specifications
Details
Product code
CRS328-4C-20S-4S RM
Architecture
ARM 32bit
CPU
98DX3236
CPU core count
1
CPU nominal frequency
800 MHz
Dimensions
443 x 194 x 44 mm
RouterOS license
5
Operating System
RouterOS / SwitchOS
Size of RAM
512 MB
Storage size
16 MB
Storage type
FLASH
Tested ambient temperature
-20°C to 60°C
MTBF
Approximately 200'000 hours at 25C
Powering
Details
Number of AC inputs
2
AC input range
100-240
Max power consumption
43 W
FAN count
Passive
Ethernet
Details
Ethernet Combo ports
4
Fiber
Details
SFP ports
20
SFP ports
4
Peripherals
Other
Details
CPU temperature monitor
Yes
Voltage Monitor
Yes
Mode button
Yes
Switching results
CRS328-4C-20S-4S+RM
Mode
Configuration
1518 byte
512 byte
64 byte
kpps
Mbps
kpps
Mbps
kpps
Mbps
Switching
Non blocking Layer 2 throughput
5,201.6
63,167.8
15,037.6
61,594.0
95,238.1
48,761.9
Switching
Non blocking Layer 2 capacity
5,201.6
126,335.5
15,037.6
123,188.0
95,238.1
97,523.8
Switching
Non blocking Layer 1 throughput
5,201.6
64,000.0
15,037.6
64,000.0
95,238.1
64,000.0
Switching
Non blocking Layer 1 capacity
5,201.6
128,000.0
15,037.6
128,000.0
95,238.1
128,000.0
Ethernet test results
CRS328-4C-20S-4S+RM
98DX3236 all port test
Mode
Configuration
1518 byte
512 byte
64 byte
kpps
Mbps
kpps
Mbps
kpps
Mbps
Bridging
none (fast path)
104,3
1266.6
273,5
1120.3
449
229.9
Bridging
25 bridge filter rules
104
1263.0
104,6
428.4
104,5
53.5
Routing
none (fast path)
104,3
1266.6
273,9
1121.9
343,5
175.9
Routing
25 simple queues
104,3
1266.6
136,9
560.7
137,4
70.3
Routing
25 ip filter rules
64,8
786.9
65,9
269.9
65,8
33.7
See Datasheet