MikroTik CRS309-1G-8S IN Desktop Switch
The CRS309-1G-8S+ is a very compact, yet powerful networking switch. It has eight SFP+ slots, supporting up to 10 Gbit module in each, which results in a total switching capacity of 162 Gbps and total non-blocking throughput of 81 Gbps.
The device also has dual-core 800 MHz CPU, 512 MB RAM, a management Ethernet port with PoE power input, RS232 serial port, a grounding terminal and is capable of dual boot (choose which operating system you prefer, RouterOS, or SwOS).
Specifications
Details
Product code
CRS309-1G-8S IN
Architecture
ARM 32bit
CPU
98DX8208
CPU core count
2
CPU nominal frequency
800 MHz
Dimensions
272 x 191 x 44 mm
RouterOS license
5
Operating System
RouterOS / SwitchOS
Size of RAM
512 MB
Storage size
16 MB
Storage type
FLASH
Tested ambient temperature
-40°C to 70°C
MTBF
Approximately 200'000 hours at 25C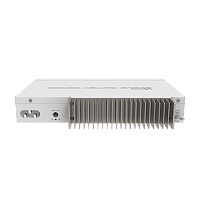 Powering
Details
PoE in
802.3af/at
PoE in input Voltage
18-57 V
Number of DC inputs
2 (DC jack, PoE-IN)
DC jack input Voltage
12-57 V
Max power consumption
23 W
Max power consumption without attachments
17 W
FAN count
Passive
Ethernet
Details
10/100/1000 Ethernet ports
1
Fiber
Peripherals
Other
Details
CPU temperature monitor
Yes
Switching results
CRS309-1G-8S+IN
Mode
Configuration
1518 byte
512 byte
64 byte
kpps
Mbps
kpps
Mbps
kpps
Mbps
Switching
Non blocking Layer 2 throughput
6,583.2
79,946.7
19,032.0
77,954.9
120,535.7
61,714.3
Switching
Non blocking Layer 2 capacity
6,583.2
159,893.4
19,032.0
155,909.8
120,535.7
123,428.6
Switching
Non blocking Layer 1 throughput
6,583.2
81,000.0
19,032.0
81,000.0
120,535.7
81,000.0
Switching
Non blocking Layer 1 capacity
6,583.2
162,000.0
19,032.0
162,000.0
120,535.7
162,000.0
Ethernet test results
CRS309-1G-8S+IN
98DX8208 all port test
Mode
Configuration
1518 byte
512 byte
64 byte
kpps
Mbps
kpps
Mbps
kpps
Mbps
Bridging
none (fast path)
217,5
2641.3
231,1
946.6
243,6
124.7
Bridging
25 bridge filter rules
117,4
1425.7
117,4
480.9
145,2
74.3
Routing
none (fast path)
207,6
2521.1
217,6
891.3
229,5
117.5
Routing
25 simple queues
121,1
1470.6
122,7
502.6
145,2
74.3
Routing
25 ip filter rules
83,6
1015.2
83,1
340.4
88,9
45.5
See Datasheet